Below is a selection of past concert programmes from the last few years, to give you a flavour of the variety of music performed by the Cantilena Singers.
7 December 2019: A Christmas Rose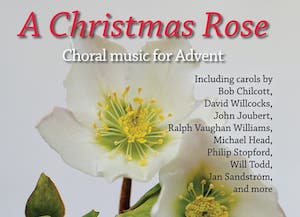 The Church of the Holy Sepulchre in Cambridge, known as the Round Church, was the venue for the Cantilena Singers' Advent concert for 2019. Based around the theme of the rose at Christmas, the Catholic imagery of Mary as the rose from which Jesus sprang, the programme included Hans Leo Hassler's Missa super Maria dixit, based on his motet setting the words of the Annunciation, and Jan Sandström's beautiful Es ist ein Ros' entsprungen, weaving Michael Praetorius's famous setting into a slowly shifting soundscape. Biebl's Ave Maria, mixing the familiar "Hail Mary" prayer with the Angelus, another Catholic prayer based around the Annunciation, sounded particularly fine in the supportive acoustic of the Round Church. Carols from Bob Chilcott, David Willcocks, John Joubert, Will Todd and Philip Stopford rounded out the programme, and the choir were joined by the Canola Quartet, who provided a beautiful rendition of pieces by Mendelssohn and Warlock.
6 July 2019: Songs of Summertime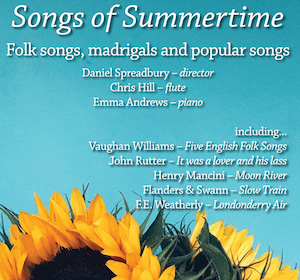 The Cantilena Singers performed a tea-time concert in St. James's Church, Lode, with a mix of madrigals by John Farmer, Thomas Morley, and John Bennet, folk song arrangements – including the Kings' Singers arrangement of Londonderry Air and Ben FInn's haunting arrangement of She moved through the fair – with some famous songs from film, including Moon River by Henry Mancini and A Nightingale Sang in Berkeley Square by Manning Sherwin.
6 April 2019: Valiant for Truth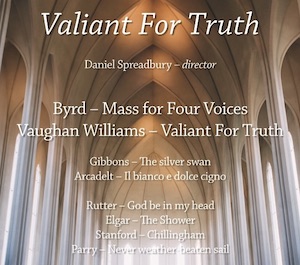 The Cantilena Singers returned to Holy Trinity Church, Bottisham for a programme of Lenten music, with a programme built around the Mass for Four Voices by William Byrd, and capped with Ralph Vaughan Williams's setting of Valiant-for-Truth, taking its words from John Bunyan's The Pilgrim's Progress. Other works included madrigals by Orlando Gibbons and Johannes Arcadelt, part songs by Stanford, Elgar, Parry, and two short pieces by John Rutter, God be in my head and his Choral Amen in E major. The choir were joined by organist Jonathan Giles, who added the Prelude by Maurice Duruflé, and chorale preludes from C.S. Laing and Vaughan Williams to the programme.
8 December 2018: A Ceremony of Carols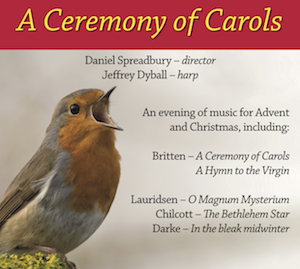 The Cantilena Singers made their first visit to the Church of St Peter and St Paul in Dry Drayton for a very special concert together with harpist Jeffrey Dyball, performing together Benjamin Britten's A Ceremony of Carols in its SATB version. Other carols in the programme included popular favourites by Morten Lauridsen, Bob Chilcott, Harold Darke, John Rutter, and more. The choir looks forward to making a return to Dry Drayton in the near future.
7 July 2018: Raindrops on Roses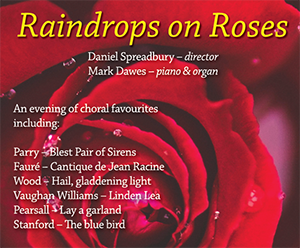 In the midst of a summer heatwave, the Cantilena Singers returned to Emmanual United Reformed Church in Cambridge for an evening of choral favourites, accompanied by Mark Dawes on the piano and organ. In Parry's centenary year, the programme was built around his great choral ode Blest Pair of Sirens, and other composers connected to Parry also featured in the programme, including Stanford and Vaughan Williams. The programme concluded with folk songs, entries from the American song book, and, of course, a new arrangement of My favourite things from Rodgers and Hammerstein's The Sound of Music.
28 April 2018: Come, let's rejoice!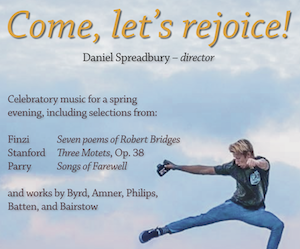 Performing in St. Mary's Church, Burwell for the first time in five years, the Cantilena Singers performed a programme of unaccompanied English choral music. Beginning its celebration of Parry's centenary, the choir performed the first four songs from his valedictory collection Songs of Farewell, together with collections of pieces celebrating the Resurrection and Ascensiontide. Works from Tudor composers Byrd, Phillips, Amner and Batten were joined by works from 19th century Parry and Stanford, with the programme capped off by one of Finzi's songs to poems by Robert Bridges, My spirit sang all day.
9 December 2017: Noël Nouvelet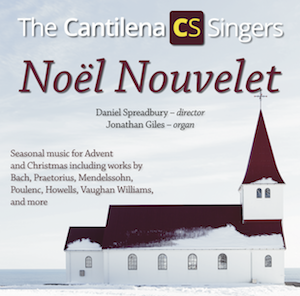 On a chilly December evening, the Cantilena Singers returned to the Church of St Mary, Bottisham, for a programme of music for advent and Christmas. The centrepiece of the programme was Bach's great motet Komm, Jesu, komm (BWV 229), and included other pieces cut from the same polychoral cloth, including Hieronymus Praetorius's setting of the great melody Resonet in Laudibus to the macaronic text Joseph lieber, Joseph mein, and Mendelssohn's rousing Frohlocket, ihr volker auf erden. The choir was joined by organist Jonathan Giles, who played three chorale preludes from Bach's Orgelbuchlein as well as the magnificent Variations on a Theme by Herbert Howells by Derek Bourgeois.
8 July 2017: A celebration of Britain and Europe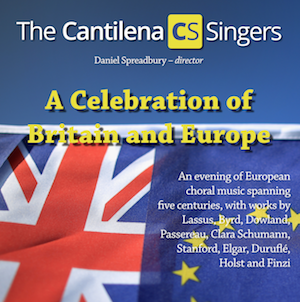 The Cantilena Singers returned to the Church of St Mary, Stow cum Quy, for the first time in six years for a summer evening concert celebrating the exchange of cultural ideas between European countries over the past five centuries. Beginning with English madrigals, Italian frottolas, and French chansons, the choir explored music by Byrd, Morley, Dowland, Lassus, Josquin and Passereau. The first half was capped with pieces by Clara Schumann and Rheinberger. The second half featured Romantic part songs by Stanford, Elgar, Holst, and Finzi.
18 March 2017: Faire is the Heaven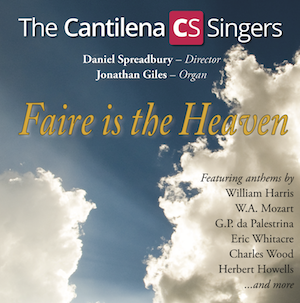 For the second year, the Cantilena Singers returned to St. Mary's Church, Newmarket for another performance of seasonal sacred music, ably accompanied by organist Jonathan Giles, who wowed the audience not only with the beautiful French music of Vierne and Cochereau, but also with the monumental Passacaglia from Sonata 8 by Josef Rheinberger. The concert took its title from William Harris's beautiful setting of Edmund Spenser's text, Faire is the Heaven, which was performed alongside another of Harris's anthems for double choir, Bring us O Lord. Works by Howells (Like as the hart), Mozart (Ave verum corpus and Laudate Dominum), Wood (Hail, gladdening light and Oculi omnium), and others rounded out a memorable programme.
10 December 2016: Alleluia! From mystery to joy
The Cantilena Singers gave their first performance in St. George's Church, Six Mile Bottom, in what proved to be one of the finest acoustics the choir have had the pleasure to perform in for many years. An Advent concert that began with an antiphonal performance of Gabrieli's O magnum mysterium and which ended with a rousing rendition of Joy to the world also took in works by Palestrina (Hodie Christus natus est), Scheidt (A boy is born in Bethlehem), Mozart (Worship the Christ child) and Mendelssohn (Frohlocket ihr Völker auf Erden). The choir also performed favourite arrangements by William Llewellyn (London waits, I saw three ships), Vaughan Williams (Wassail song), Michael Head (The little road to Bethlehem), and more. Coupled with seasonal readings of poetry and prose from members of the choir, the church was filled with light and beautiful music appropriate to the season.
9 July 2016: Give me some music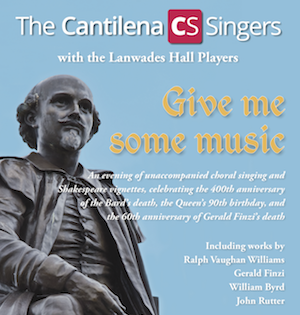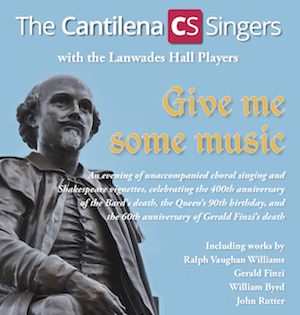 In the beautiful and ancient Church of St. Mary, Swaffham Prior, the Cantilena Singers gave a concert celebrating the 400th anniversary of the death of William Shakespeare, the 60th anniversary of the death of Gerald Finzi, and the 90th birthday of her majesty the Queen, Elizabeth II. The programme included Ralph Vaughan Williams' Three Shakespeare Songs, selections from Finzi's Seven poems by Robert Bridges and Ernest Moeran's Songs of Springtime, along with a trio of pieces from A Garland for the Queen, the 1953 collection of pieces celebrating the Queen's Coronation. The choir was joined by a quartet of actors from the Lanwades Hall Players, who performed short vignettes from four of Shakespeare's most famous plays, including Macbeth and A Midsummer Night's Dream.
19 March 2016: Lux aeterna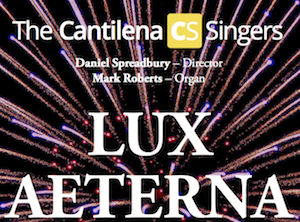 Performing for the first time in the beautiful St. Mary's Church in Newmarket, the Cantilena Singers gave a concert based around the text Lux aeterna ("Eternal light"), from the Latin Requiem mass. Settings of this text by Edward Elgar and the American composer Brian Schmidt were partnered with works by Rutter, Byrd, Robert White, and others. The choir was joined by organist Mark Roberts, who performed works by Mendelssohn and Ernest Walker.
5 December 2015: Tomorrow shall be my dancing day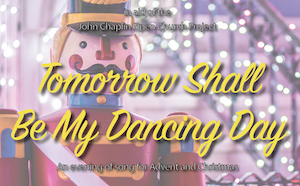 The Cantilena Singers celebrated the season of Advent and Christmas with a performance at St. Mary's Church, Great Abington in front of a packed house. The programme included a number of favourites, including In the bleak midwinter (Harold Darke) and In dulci jubilo (Robert Pearsall), but also less familiar carols, such as The Bethlehem Star (Bob Chilcott) and Lullay, my lyking (Thomas Hewitt Jones). And, of course, two arrangements of the text from which the programme took its name, Tomorrow shall be my dancing day, by Sir David Willcocks and John Gardner. The choir was joined once more by organist Jonathan Giles, who performed works by Sweelinck, Dupré, Ireland, and Pachelbel.
26 July 2015: Sweet summer memories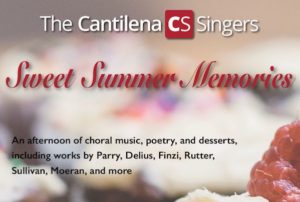 The Cantilena Singers performed in the beautiful Church of St Mary the Virgin, in Depden, Suffolk, for a tea-time concert of music and poetry followed by delicious cakes and desserts. Despite the unseasonably wet weather, the enthusiasm of both choir and audience was undimmed. The programme included selections from Ernest Moeran's Songs of Springtime, Parry's Songs of Farewell, Rutter's Five Childhood Lyrics, and a selection of folk song arrangements, including The Lass of Richmond Hill (David Willcocks), Early one morning (arranged by the director), The Wild Mountain Thyme (John Ross), and Shenandoah (James Erb).
28 March 2015: Lamentations and Hope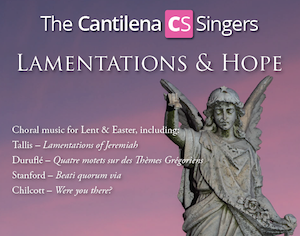 The Cantilena Singers returned to the beautiful Church of St Cyriac and St Julitta for the first time in a decade for a performance of music for Lent and Easter on the eve of Palm Sunday. The programme was centred around Thomas Tallis's setting of the Lamentations of Jeremiah, and Maurice Duruflé's Quatre motets sur les thèmes Gregoriennes, and also included works by Orlando Gibbons, Bob Chilcott, Charles Villiers Stanford, Antonio Lotti, and Adrian Batten. Listen a live recording of the concert at SoundCloud.
6 December 2014: Christmas around the world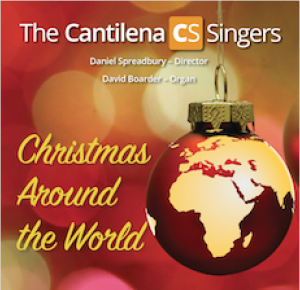 We once again returned to Bassingbourn Parish Church for a concert of Advent and Christmas music, spanning 500 years and the whole globe. Starting in Spain with the 16th century composer Victoria and proceeding eastwards around the world via the UK, the Netherlands, Sweden, Germany, Austria, Hungary, Russia, China, Australia, and the USA, the programme included favourites such as O magnum mysterium by Morten Lauridsen, and less familiar works, such as the outback carols of William B. James, and Peter Yue's arrangement of the popular Chinese hymn, Midnight stars make bright the skies. The choir were joined by David Boarder on the organ, who provided complementary solo works of similar global variety.
26 July 2014: The World of Nature in Song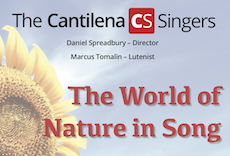 A tea-time concert in the early evening in the beautiful surroundings of the Church of St John the Evangelist in Waterbeach, the Cantilena Singers performed a compact programme of English-language works celebrating the world of nature, including selections from Finzi's Seven Partsongs to texts by Robert Bridges, Roderick Elmer's Four River Songs (on texts by Tennyson and Heath-Stubbs), together with a selection of 16th century madrigals, Eric Whitacre's Water Night, and a few other numbers. The choir were joined by pianist Andrew Taylor and lutenist Marcus Tomalin, who combined with members of the choir to perform solo works.
26 April 2014: Songs of Celebration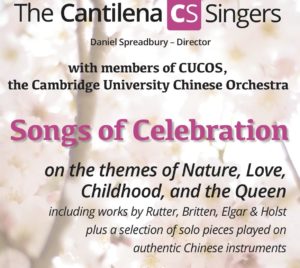 A fine spring evening saw the Cantilena Singers perform for the first time at the Priory and Parish Church of St. Andrew, Swavesey, near Cambridge. Joined by performers from the Cambridge University Chinese Orchestra, who performed on the pipa, erhu and hulusi, the audience enjoyed a programme based around four themes: love, nature, the Queen, and childhood.
Works included a selection from John Rutter's Scenes from Childhood, three pieces from the collection of partsongs published in 1953 to celebrate Queen Elizabeth II's coronation, A Garland for the Queen, a selection of folk songs by Vaughan Williams and Holst, and part songs by Elgar, MacCunn and Barmby.
30 November 2013: Sing today none but joys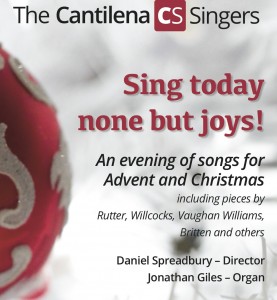 Cantilena's concert on the eve of Advent Sunday in Holy Trinity Church, Bottisham brought together many favourite Christmas carol arrangements by Rutter and Willcocks.
A highlight was a rendition of Britten's A Hymn to the Virgin in the composer's centenary year, with the solo quartet singing from the back of the church.
The choir was joined by organist Jonathan Giles, whose sensitive choice of complementary pieces added to the sense of the season.
20 July 2013: Songs of Summertime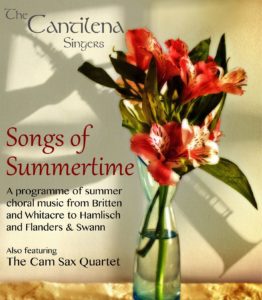 This concert at St. Mary's Church, Burwell was staged jointly with the Cam Sax Quartet. The programme was built around Britten's Five Flower Songs, in celebration of the composer's centenary. Other works included Lux Aurumque and Sleep by Eric Whitacre, O Nata Lux by Morten Lauridsen, and a variety of arrangements of folk songs, including Londonderry Air (Knight), Shenandoah (Erb), and the "conflation" of two folk songs (There was an old man and This old man) by Andrew Carter. The programme concluded with a set of songs from the screen and stage, including Over The Rainbow (from The Wizard of Oz) and The Way You Look Tonight (from Swing Time).
20 April 2013: Beyond Easter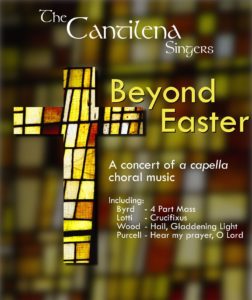 St. Mary's Church, Swaffham Bulbeck, played host to our Easter-themed concert, featuring William Byrd's Mass for Four Voices. The choir also performed several pieces for double or eight-part choir: William Harris's sublime Faire is the Heaven, the Crucifixus a 8 by Antonio Lotti, Charles Wood's uplifting anthem for double choir, Hail! Gladdening Light, and Purcell's monumental Hear my prayer, O Lord. The programme was rounded out by Saint-Saen's Ave Maria and a setting of Tu es Petrus by Palestrina.
8 December 2012: Christmas is coming!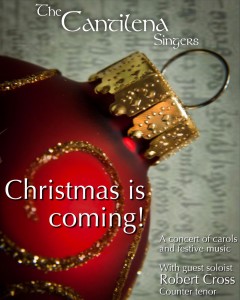 Cantilena returned to Bassingbourn Parish Church for another seasonal programme, with solo countertenor Chris Burn. The centrepiece of the programme was Bach's motet Komm, Jesu, Komm (BWV 229), and the concert also featured motets by Mendelssohn (Frohlocket, ihr Volker auf Erden) and Bruckner (Ave Maria), plus a selection of popular carols by John Tavener, Boris Ord, John Rutter, David Willcocks, Peter Warlock, and Michael Head.
22 July 2012: Summer afternoon concert
Cantilena returned to the Church of St. Mary the Virgin in rural Depden, Suffolk for an afternoon concert followed by a fabulous tea of cakes and other sweet treats. A menu of secular part songs was offered by the choir, including French-language selections from Les chansons des Roses by Morten Lauridsen, taking their texts from poems by Rilke, and Debussy's famous part songs, plus a pair of part songs by Elgar (My love dwelt in a northern land and As torrents in summer), and a selection of madrigals by Dowland and Byrd.
20 & 21 April 2012: British Choral Anthems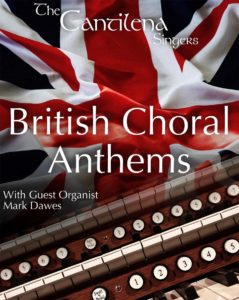 A celebration of great British sacred music was staged both in Bassingbourn Parish Church on Friday 20 April and in Emmanuel United Reformed Church in Cambridge on Saturday 21 April, together with organist (and former musical director of Cantilena) Mark Dawes. The programme surveyed anthems in the English language from the 16th to the 20th century, from If ye love me by Thomas Tallis to For the beauty of the earth by John Rutter, taking in works by Byrd (O sing joyfully), Gibbons (O Lord, in thy wrath), Ernest Walker (I will lift up mine eyes), Stanford (Beati quorum via), Walton (Set me as a seal), Parry (I was glad), Ireland (Greater love hath no man), Harris (Bring us, O Lord God), and a set of three anthems by Edward Bairstow (Jesu, the very thought of thee; I sat down under his shadow; and Let all mortal flesh keep silence).
10 December 2011: O Magnum Myserium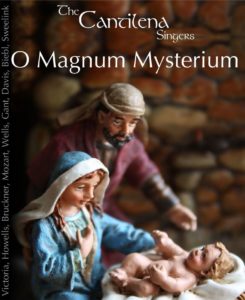 Cantilena returned to the Church of St. Mary in Stow-cum-Quy for a programme built around the Missa O Magnum Mysterium by Tomas Luis de Victoria, the 16th century Spanish composer. Between choral works, members of the choir gave readings of texts on the themes of Advent and Christmas, culminating in an amusing spin on the famous counting carol, The 12 Thank You Notes of Christmas. The programme also included a number of popular carols, including Sir Christemas (Wells) and Still, Still, Still (Gant).