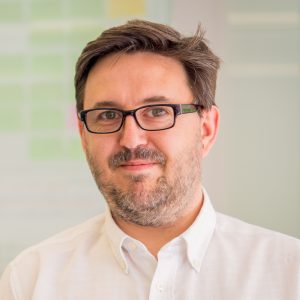 Daniel Spreadbury has been the Musical Director of the Cantilena Singers since 2000. Daniel graduated from University College, Oxford in 1998 with an honours degree in Music. A keen singer himself, he studied under Alastair Thompson, one of the founder members of the King's Singers, and during his time at Oxford performed not only with the chapel choir of his own college, but also with the choirs of Magdalen and New College. He also directed the Univ Chorus, the university's largest non-auditioning mixed voice choir, during his time at Oxford.
Also while a student, Daniel was the Choral Director for Gli Amici della Musica, a student-run music society that brought together young musicians from secondary school, university and music college for an intensive period of rehearsal during each of the main academic vacations. During his time as Choral Director, the choir performed many large-scale works, including Brahms's Ein deutsches Requiem in the Winter Gardens in Bournemouth to celebrate the society's 25th anniversary, with a massed choir of more than 100 current and former members, and a full orchestra.
Upon finishing his studies at Oxford, Daniel joined the choir of Ely Cathedral as one of two full-time tenor lay clerks, under the musical direction of Paul Trepte. During his time with the cathedral choir, Daniel toured to the US and Malta, featured on several recordings, and performed in live radio and television broadcasts, including under the direction of Sir Simon Rattle in the BBC's Millennium Concert, which was broadcast live from Ely Cathedral.
Daniel took over the directorship of The Cantilena Singers from Mark Dawes in 2000, and has to date directed them in around 45 concerts in Cambridge and the surrounding towns and villages.
Daniel lives in Enfield and works in London, where he is the product manager for Dorico, a music notation and composition application from Steinberg, a Hamburg-based company that produces some of the world's leading music technology products, including Cubase.